Bat Removal & Exclusion Services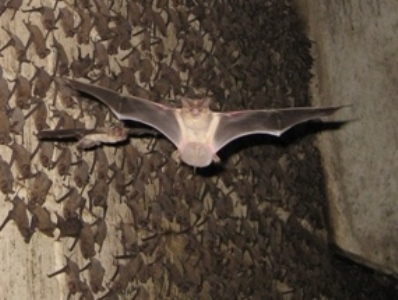 Randy Lee Inspections is based in central Texas, inside the migratory path of the Mexican Free-Tailed bat (also known as the Brazilian Free-Tailed bat). Every February/March, these bats travel to our area and many other areas in Central Texas and the Texas Hill Country to form colonies to produce young. Then in the fall, most of them migrate back to Mexico for the winter.
The bats are an important part of our ecosystem, since they can eat up to 2/3 of their body weight in insects each night. Unfortunately, when they choose human-inhabited structures as their roosting spots, they can also become a nuisance and create health hazards for humans through guano deposits(bat droppings) left in these structures. These are the situations where we can help safely & humanely rid the structure of bats, protecting people from exposure to possible health hazards.
We are experienced, fully insured & certified by the State of Texas Structural Pest Control Service. Our crew has the following qualifications & certifications:
Texas State Business License # 0731911
State of Texas Historically Underutilized Buisness (HUB)
OSHA-10 & OSHA-30 Certified
Operator Safety Training completed for Aerial Lifts & Fall Protection
American Heart Association's Heartsaver First Aid CPR/AED (Automated External Defibrillator) Certification
Miner Certification Training from the Mine Safety & Health Administration
Certified Installer for Bird-B-Gone, Inc