About the Owner, Randy Lee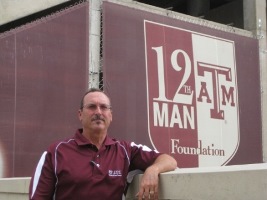 Randy Lee founded Randy Lee Inspections, LLC in 2016. He is the previous owner and founder of RP Lee Termite & Pest Control. He graduated from Texas A&M University in 1983, earning a Bachelor's Degree in Business Management with a concentration in Business Analysis. Randy has over 30 years of business experience, with the majority of it spent in the Pest Control Industry in the Brazos Valley.
In 1983, Randy began his career by taking over ownership of seven Retail Operations for Waterbed Gallery, located across Texas. Two stores were located in College Station, and one in each of the following cities: Waco, Copperas Cove, Palestine, Nacogdoches, and Victoria. Randy sold the last Waterbed Gallery store in 1989.
In 1985, Randy ventured into the Pest Control Industry by founding Bug Blasters Pest Control in College Station, TX. Bug Blasters was built from a humble start to revenues of over $800,000 a year. In 1994, Bug Blasters was sold to Orkin Pest Control, while Randy stayed on and signed a five year Management Contract with Orkin.
As Branch Manager in College Station, Randy took advantage of the many training opportunities offered by Orkin, to widen his technical knowledge of Pest Management. He also used the time at Orkin to expand his Management and Operational skills. Randy earned several prestigious awards while with Orkin, including:
(1995) Outstanding Salesperson Achievement Award for the Southern Region
(1996) Managed the Top Sales Producing Branch for the Southern Region
(1997) Top Branch Manager for the Southern Region
(1997) President's Club Award, that included an all-expense paid trip to Cabo San Lucas, Mexico
After completing the Management Contract, Randy would leave Orkin to return to his entrepreneurial roots and begin RP Lee Consulting. RP Lee Consulting kicked off in 1999, and was originally focused on consulting in the Pest Control industry, specializing specifically in Wood Destroying Insects. Also in 1999, Randy purchased the rights & marks to T-Shirts Plus and was involved in Franchising and Licensing, as well as Retail Operations of T-Shirts Plus custom apparel stores all across the country. T-Shirts Plus franchises were successfully sold and opened in Myrtle Beach(South Carolina), Lakewood(Colorado), Sacramento(California), Harker Heights(Texas), San Marcos(Texas) and a master franchise was even opened in Canada. In 2008, T-Shirts Plus converted all franchise agreements to license agreements, where franchisees now just pay for the use of the T-Shirts Plus name, marks and logos.
In 2004, Randy expanded RP Lee Consulting back into a full range of Pest Control services and adjusted the business name to RP Lee Termite & Pest Control. While growing RP Lee to be one of the top revenue producing Pest Control companies in the Brazos Valley, Randy has also worked with a local software company as co-creator in developing a software program that helps inspectors quickly and easily create State of Texas approved Wood Destroying Insect reports. The software reduces manual paperwork requirements and delivers electronic WDI reports immediately following the inspection to all involved parties, therefore reducing the time to delivery. Individually, Randy has completed over 25,000 WDI Inspection Reports, reaching that 25,000 mark in 2011. His input, experience and expertise were invaluable in developing the software.
In 2011 and 2012, RP Lee partnered with the Texas A&M University Entomology Department, along with chemical company, DuPont, in the study of Altriset, a green alternative termiticide. Also in 2011, Randy once again offered his expertise and was instrumental in transitioning Service Solutions, a national service company, into taking over the Pest Control Services on the campus of Texas A&M University. Randy provided guidance and help getting their business license set up, as well as with the training and licensing of employees.
RP Lee experienced unprecedented expansion in its service offerings from 2009 to 2016. Core services of the business were expanded to include Bat & Bird exclusion and removal services in 2010 for several large commercial and multi-family residential buildings in the Bryan/College Station area. In 2011, 2012, and 2013, the largest of those services involved RP Lee heading up the projects to exclude the Mexican Free-Tailed Bats that made their home at Blue Bell Park and at Kyle Field on the campus of Texas A&M University.
In 2016, Randy founded Randy Lee Inspections, LLC to continue providing WDI Inspections, along with bird and bat control services to the B/CS area and across the state of Texas
Randy believes it is important as a business owner, to also give back, pay it forward, and make an impact in our local community. He served as a member of the Board for the Bryan/College Station Better Business Bureau for six years, from 1990 through 1996. Throughout the years, he has mentored seven former employees and helped them each start new Pest Control businesses all across Texas, including companies in Abilene, Bryan/College Station, Caldwell, Grapevine and Kerrville. Randy is also a member of several local professional organizations and sponsors various local groups, organizations, and youth sports teams whenever possible.